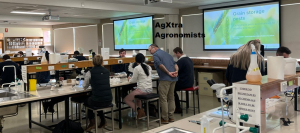 The sixth Biosecurity Extension Community meeting was held online on 14 December 2022, with 30 practitioners from multiple plant industries meeting to share insights, observations and best-practice on-farm biosecurity techniques.
The Biosecurity Extension Community provides a platform for practitioners working across Australian plant industries to come together and discuss ways of improving management practices through tools, knowledge sharing, and through coordinated and consistent biosecurity messaging. The community also connects early career extension personnel with experienced extension practitioners.
Robert Chin, the Compliance Manager for Biosecurity and Nursery Standards at Bunnings, spoke about the biosecurity challenges faced by the largest retail nursery chain in Australia – which includes 282 warehouse stores and a total of 53,000 team members. He identified hitchhiker pests as a significant challenge, as is the variation in declared weed species across municipalities. Some of the biosecurity threats Bunnings face include plant pests and diseases such as Brown marmorated stink bugs, leaf miners, myrtle rust, feather grass and cane toads.
Shafiya Hussein, the Grains Biosecurity Officer for Biosecurity SA, described her role in an initiative to improve the management and preparedness for biosecurity risks in the grains industry, at farm and industry levels. Shafiya spoke about exotic grain pest surveillance and monitoring practices and identified target pathways such as sentinel silo sites at key grain export ports, grain farms with shipping containers used for storage and stores selling whole grain imports. She also introduced the resources and tools available to grain growers, including advice from agronomists, fact sheets, training workshops, field days, Ag Bureau talks and hotlines.
Jim Moran, from the Grains Farm Biosecurity Program for Agriculture Victoria, spoke about the challenges of engaging a diverse audience to affect changes in biosecurity practices. He noted that the growers he works with are time poor and may have competing priorities, with different crops, farm practices, demographics, resources, knowledge, motivations and experience. Some of the strategies he uses successfully include going on-farm as much as possible, holding field days and releasing regular media updates with consistent messaging. Jim emphasised that the topic and timing of engagement matters!
Paco Tovar, a Forest Biosecurity Manager for the Australian Forest Products Association, introduced a new General Surveillance Community of Practice (CoP) with 153 members, including plant, animal, and port sectors. The CoP has a focus on building capacity and capability to support effective biosecurity. This network will provide learning opportunities in general surveillance methodology and opportunities for collaboration on cross-sectoral general surveillance projects.
All presentations from meeting six are available on our website <>
We look forward to our next meeting in the new year, on 1 March 2023, which will feature the Indigenous Ranger program (DAFF) and the new E-learning tool for Industry Liaison Officers (PHA).
We look forward to seeing everyone again in 2023.
If you would like to be added to the Biosecurity Extension Community, please contact Jo Luck jo.luck@horticulture.com.au
https://www.pbri.com.au/wp-content/uploads/2023/01/PBRI-e1673404665903.png
200
300
Mandy Jarvis
http://www.pbri.com.au/wp-content/uploads/2017/11/PBRI_Logo_text.svg
Mandy Jarvis
2023-01-11 12:44:19
2023-01-11 13:39:42
Biosecurity extension insights from retail to on-farm