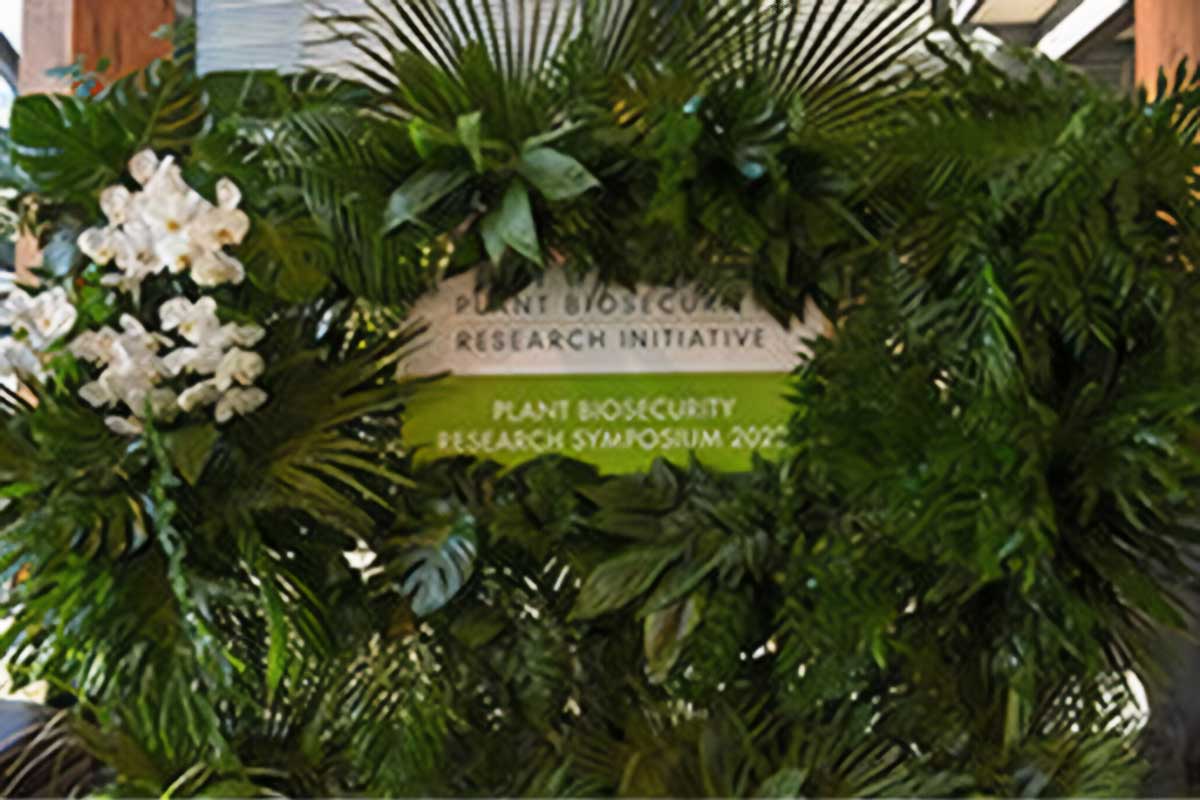 The second Plant Biosecurity Research Symposium was held on the 11 & 12 May  at the National Wine Centre in Adelaide on Kaurna country. The two-day Symposium, sponsored by the Department of Agriculture, Water and the Environment, included a program of plant biosecurity research, supported by the PBRI member organisations and partners. This event attracted over 150 researchers and industry members and included a Trans-Tasman research session and a partnership panel on enhanced international and national collaboration.
Kaurna Elder, Uncle Rod welcomed the delegates to Kaurna Country followed by a performance by Loren Ryan,  of the song Flame Trees made famous by Cold Chisel. Loren Ryan is a First Nations Australian from the Gamilaraay people from Northwest, New South Wales.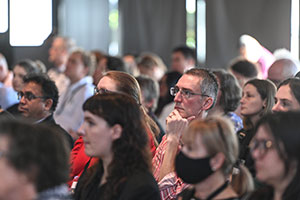 Deputy Secretary, Andrew Tongue, opened the Symposium which included two full days of cross-sectoral biosecurity RD&E (Research Development & Extension). The program featured a Trans-Tasman session on collaborative research between Australia and New Zealand and a 'Partnership Panel' session, where partners shared their views on strengthening the collaboration with PBRI into the future. A cross-sectoral Biosecurity RD&E workshop will be held in Canberra in mid-June to capture biosecurity research ideas generated at the PBRI Symposium.
Keynote Speaker, Ben Harris (Wynns Coonawarra Estate) drew on his years of experience as the Regional Viticulture Manager in his keynote on 'Biosecurity insights from the vineyard. He spoke about biosecurity as a vital part of the overall sustainability of the wine industry.
In addition to managing the Wynns viticulture team he also oversees the Treasury Wine Estates technical viticulture strategy for Australia and New Zealand, vineyard operations in the Limestone Coast and the Riverland as well as vineyard operations and growers' relations in Tasmania, Victoria, Western Australia, and New Zealand.
Ben was born and raised in the Adelaide Hills of South Australia, where he commenced his involvement with the wine industry in 1993. With an interest in wine and agriculture Ben went on to complete a Bachelor of Agricultural Science (Viticultural Science) at the University of Adelaide. He has worked in several roles throughout Australia, New Zealand and Bordeaux, which include technical and management roles.
Ben's vision is to continuously improve vineyard performance and sustainability while protecting the vineyards from biosecurity risks. He wants to leverage the latest R&D, innovation, and technology to create real step change, while also applying the key learnings from the past.
Dr Beth Woods gave the sympoisum dinner address, discussing Partnerships for Research Impact. Beth covered her time as Director General of DAF and spoke in her role as commission for ACIAR.
These are all crucial because in our national system for agricultural R&D – they are likely to at least partly fund your work.  In my view you should have thought through the implementation or delivery partners for your research to have impact before you start.  Of course, it may change over time – research does not always follow a straight line – but your community and industry beneficiaries ideally will come along on that journey with you.  From fruit fly to TR4 to grain and pulse diseases and insects, I can think of myriads of examples where we needed a broad set of community members to understand the research and to be part of the solution.
Joel Willis, Principal Director, Detection Capability and Emerging Technology at DAWE gave the day 2 keynote on Advancements in technology for biosecurity risk detection. His talk demonstrated the investment made by the Department in new technologies such as 3 D Xray passenger screening.
Joel Willis leads the Detection Capability and Emerging Technology Section, Biosecurity Operations Division, within the Department of Agriculture, Water and the Environment (DAWE). Joel and his team are responsible for delivery of the DAWE Detector Dog Program and a range of detection technologies deployed at the border. This includes a particular focus on the department's 3D x-rays and world leading auto-detection algorithms for biosecurity risk.
In previous roles, Joel led several teams within the Office of Health Protection at the Commonwealth Department of Health including border health, emergency response, pandemic planning and immunisation.  Building on this experience, in late 2020, he joined DAWE to help establish an enhanced human health policy capability within the Biosecurity Operations Division.
Joel is an experienced leader of people, with a passion for making a difference at Australia's frontline.
https://www.pbri.com.au/wp-content/uploads/2022/07/PBRI-Symposium-2022.jpg
200
300
Amanda Yong
http://www.pbri.com.au/wp-content/uploads/2017/11/PBRI_Logo_text.svg
Amanda Yong
2022-07-04 09:42:50
2022-07-04 10:03:17
The plant biosecurity research community meets again